A new feature has landed in the once.to web application: an option for ignoring clicks from bots in link statistics.
What is it useful for?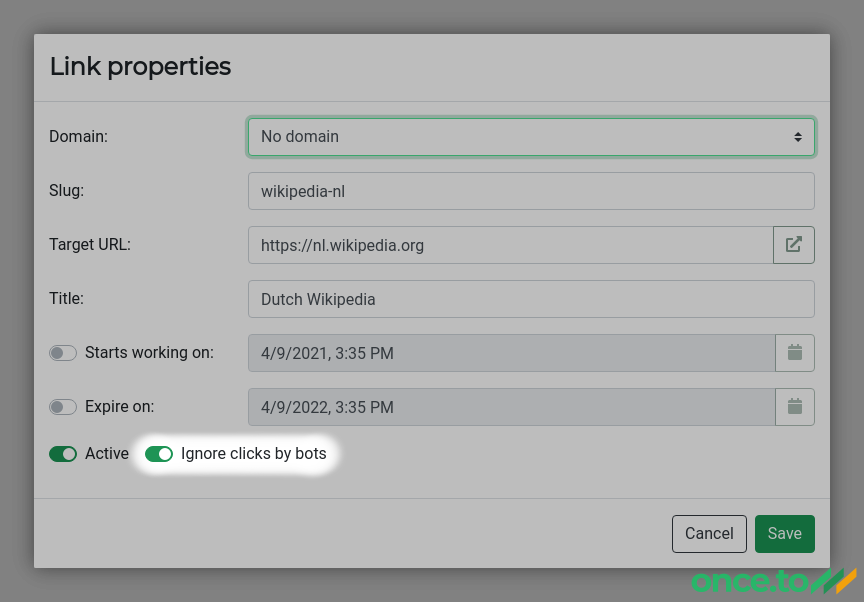 Bots! 🤖
Short links that you publish in your social and messenger accounts are not only visited by humans.
As a rule, they are inspected by the platform's robot, such as Google Bot and Facebook Crawler, even before they get published. Those bots are curious about your page title, image and keywords.
Moreover, after the link is exposed on the Internet, it can (and will) also be visited by numerous other bots and search engine crawlers. This is important for your link (and the page it links to) to remain visible and searchable.
This may, however, result in skewed click statistics for your link, as a significant share of those may not be contributed by humans — which is who you mostly care about.
Welcome humans
To address that, we have added a new switch highlighted on the screenshot above: Ignore clicks by bots.
When this option is on, bots and crawlers will still be redirected to the target page. This way your link, as well as its target page, stay SEO-compliant and searchable.
At the same time, those clicks will not be counted in click statistics, nor will they appear in any statistical reports, so that you can be sure they are made by human beings.
The new default
This option is turned on by default, also for all existing links. Should you ever wish that bots are also counted, you can turn it off for any link.
If it's off, you will still be able to see what share of bots contributes to your click statistics in the Browser and Operating System views.
---
Tags: bots, clicks, once.to, short link, short URL, statistics