Sharing is caring
If you're using a URL shortener, chances are you share your links a lot. The convenience of sharing is arguably the strongest motivation for shortening links.
Today we introduce an extended set of share buttons, available for everyone on once.to, which include Facebook, Twitter, LinkedIn, WhatsApp, Telegram, and others.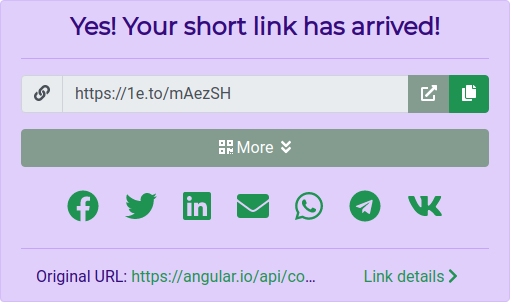 Some of these existed before but were hidden behind the More button.
Considering the major use of short URLs is sharing, we decided to feature them immediately after shortening.
The present set of sharing targets includes four social networks:
Facebook
Twitter
LinkedIn
VK
And two messengers:
Next to that, you can also send the link directly in an email ().
If used in combination with our brand-new bookmarklets, this will make link sharing extremely easy!
QR code and snippets
A downloadable QR code and HTML/Markdown snippets are available, as before, after a click on More.
There's an improvement there, too: if your link targets a page, the page's title will be used for link text in the snippet instead of dummy "Link Text".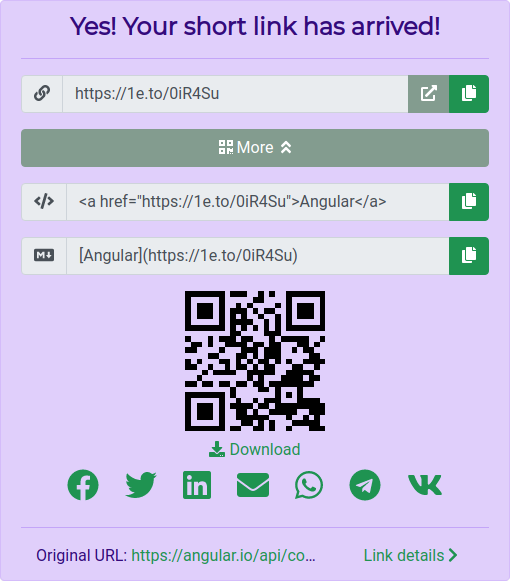 If the title is too long, it'll get truncated to 32 characters.
---
Tags: blog, email, Facebook, HTML, LinkedIn, Markdown, messengers, sharing, short link, short URL, social networks, Telegram, Twitter, VK, WhatsApp