Free trial
How you apply for a free trial, and what happens after it expires
What is free trial?
once.to allows anyone to try a service plan before buying it, we call it a trial. And, well, it's free so you won't need to pay anything; you won't even need to have a credit card to apply for it.
What is the duration of a free trial?
It's exactly 7 days from the moment of applying, extending to 23:59:59 UTC on its last day.
Which service plan can I use for a free trial?
The following paid plans:
If you wish to try another plan, please contact us.
Once the trial is started, you get exactly the same functionality at your disposal as if you bought that service plan, for the entire trial duration.
Who is eligible for a free trial?
Every registered once.to user can initiate a free trial once. After your trial has expired, you cannot apply for it anymore. Then it's up to you whether to buy a paid service plan subscription, or stay on the Free one.
How do I apply for a free trial?
To start a free trial, you do the following:
Log into your once.to account or create a new free one.
Go to the Pricing page and click on the desired service plan button.
Agree on starting a free trial: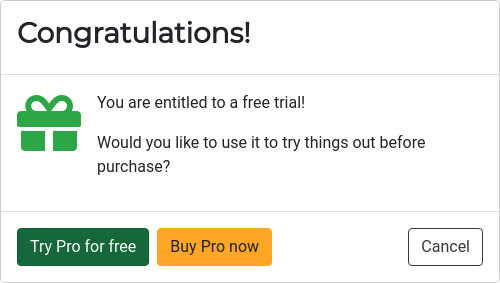 What happens after the trial has expired?
Once the free trial period lapses, you'll be automatically reverted to the default Free service plan. This will disable all the premium functionality of the service, but will keep everything you already created exactly as it is.
For instance, all domains and short links on them will still be operational, password-protected links will still require a password and so on.
You won't be able, however, to create new or modify existing links containing premium features unless you upgrade to a service plan that includes that feature.
---
Tags: free feature, free trial, link, Pro, service plan, short link, short URL, Starter, trial